We've got the answers for you.
Here are some of the most popular questions we get asked!
Frequently Asked Questions
How are you different than a "traditional" gym?
---
We have plenty of weights, barbells, dumbbells, kettlebellts and machines but we are DRASTICALLY different than what you would consider a "traditional" gym. First and foremost, we are a class-based gym. Can you come in and do your own thing? Sure. However, most of our members prefer to do class. The work outs are already writted and designed for you. So you don't have to worry about what you are going to do when you DO come to the gym. Also, the work outs are different every day, so your training program is already written for you! You have a personal trainer guiding and instructing you every step of the way. This is one of THE MAIN reasons why our members love doing class so much. Not only do our trainers make sure you are performing the movements correctly and safely, but our trainers give scales and progressions to EVERY person in class to make sure everyone gets the best work out he/she can while she is there. Last, but not least, community. We don't work out with headphones on. We work out, socialize, laugh and have fun while getting fit together. It is truly a one-of-a-kind experience.
---
Do you really have a bar at the gym!?
---
Yes, yes we do! We have snacks and coffee too! And the best part, it's FREE! We always have cold beer on tap, mixers in the mini fridge and any kind of spirit available. We work hard, but we also like to party hard. #Balance
---
Do I have to be in shape to join? I haven't worked out in (insert time domain here)!
---
No you dont! In fact, we LOVE beginners or individuals who are new to fitness. Our program is (and can be) adapted to ANY age, ability and fitness levels. We have members who have been with us for 10 years working out next to someone who has just started their fitness journey after years of inactivity. We have athletes with fake knees, shoulders and hips and missing limbs or using walkers. We have triathletes, marathon runners, and teenagers in the same class. Our YOUNGEST member is 6 and our OLDEST member is 65. Our Coaches adapt the work out specifically FOR YOU and YOUR abilities, EVERY CLASS. This is FITNESS for EVERYONE!
---
What membership should I start with?
---
Most of our members start with our three-time per week membership and it's a great place to start if you are new and looking to make our fitness classes work with your daily schedule. After a few months, most members bump up to unlimited because they can't get enough!
---
How much is membership?
---
Our rates range from $140 to $165 per month.
---
I am new and want to start ASAP! What are the next steps?
---
First and foremost, we suggest that you take advantage of the free trial week (because who doesn't like FREE). That way our Coaches can get to know you a bit better and get an idea of where you are at in your fitness journey, how well you move, what ailments or limitations you have, meet some of our awesome members...etc. Then, if you are completely new to functional fitness, you and one of our trainers do a couple one-on-one personal training sessions together. The free trial week let's us know what we need to teach you more in depth and where you already excel so these personal training sessions set you up to be safe and successful in group classes. After you have done a few personal training sessions with one of our coaches, you are free to join regular group classes.
---
What does a "typical" class look like?
---
From start to finish, it is ran and instructed by a certified personal trainer. You will be in class with members who have been with us for years, while some of them have been with us for only a couple of weeks. We run you through warm up and go over the work you are to get done in the hour. We give instruction on how to do the movements safely, and give scales and progressions to those who cannot, and give individualized coaching feedback to everyone throughout the entire hour. Generally in one class you will: - Lift weights (dumbbels, barbells, kettlebells) - Do various forms of conditioning (steady, moderate and high intensity) on the rower, bikes, skiergs, battle ropes, jump ropes or even running. - Work on lots of core strength and balance. - Perform different bodyweight movements. - Stretch, mobilize and cool down. - Sweat a lot. - Work at YOUR OWN pace and intensity. - HAVE A TON OF FUN and get a kick ass work out at the same time.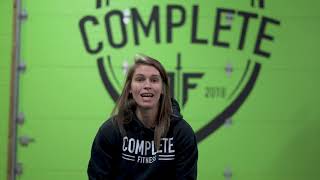 ---
Do you offer help with diet or nutrition coaching?
---
Yes! Nina is one of the most popular and reputable certified nutrition coaches in the area. She has helped HUNDREDS of clients over the last 8 years get the body they always dreamed off. She has worked with various clients all over the state, professional athletes, teenagers, collegiate athletes and even individuals ACROSS THE GLOBE! Set up a consult with her via email nina@be-complete.net so she can create a custom plan that is designed specifically FOR YOU!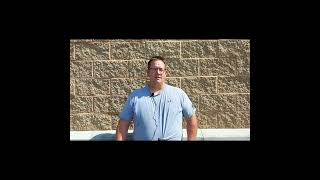 ---
How many classes do you have a day?
---
Monday through Friday we have classes at: 5am 6am 9am Noon 430pm 530pm 630pm (Monday through Wednesday only) Saturday we have class at 9am Sunday we have "open gym" at 10am.
---
How Do I Cancel or Put a Hold On My Membership?
---
Click the "Membership Management" link at the bottom of the page and fill out the form. We can place HOLDS on accounts with monthly recurring memberships for $10.00 per month. For cancellations, we need a 14 day notice before your next billing date. Failure to do so will not result in a refund.
---
What does your ONLINE program entail?
---
In short, it's the same fitness program we do in our Brick-And-Mortar facility, BUT you can access everything in the app! There is a warm up, strength and accessory lifts for the day, a conditioning work out and cool down. You are guided with "how to" videos the entire step of the way! It's $30 a month and the membership is recurring. And the minimum amount of equiment you need it a dumbbell, a jump rope and a kettlebell!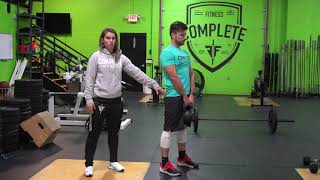 ---
---